NGL Energy Water Solutions
---
Re-Defining S.W.D.
See how NGL is re-defining the term S.W.D. and is at the
forefront of the future of midstream water management
---
---
Operations Overview
---
The Water Solutions segment provides services for the treatment and disposal of wastewater generated from crude oil and natural gas production and for the disposal of solids such as tank bottoms and drilling fluids and performs truck and frac tank washouts. In addition, the Water Solutions segment sells the recovered hydrocarbons that result from performing these services.
---
Asset Overview
---
~114 water treatment and disposal facilities, including ~212 disposal wells across the Permian, Eagle Ford, DJ, Granite Wash, Pinedale Anticline, and Eaglebine
Combined total of ~6.7 million bpd of permitted disposal capacity
8 facilities that can dispose of solids such as tank bottoms and drilling fluids
Over 620 miles of large-diameter water pipelines in-service

Currently >88% of water on pipelines, continuing to increase across the footprint
---
---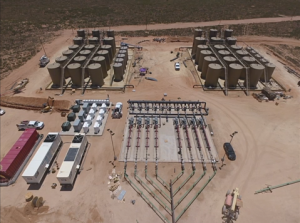 NGL Water Facility
---
Water Solutions Management
---