NGL Energy Liquids Logistics
Operations Overview
---
Liquids Logistics segment conducts marketing operations for natural gas liquids, refined petroleum products and biodiesel to a broad range of commercial, retail and industrial customers across the United States and Canada. These operations are conducted through our company-owned terminals, other third party storage and terminal facilities, common carrier pipelines and our extensive fleet of leased railcars.
For more information on NGL's Liquids Wholesale business, please visit: NGL Supply Wholesale, LLC
For more information on NGL's LPG marketing and logistics entity, please visit: Centennial Energy, LLC.
Asset Overview
---
Liquids Logistics
28 Liquids terminals
One import/export facility capable of exporting over 15kbpd of butane
Approximately 2.5 million barrels of leased storage
~5,100 owned and leased railcars
Sales from over 150 terminals in 30 states
Rack sales through common carrier pipeline terminals
---
---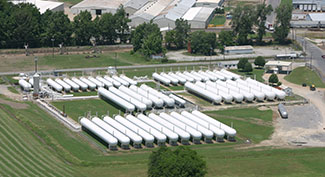 West Memphis, AR NGL Wholesale Liquids Terminal
---