Refined Fuels Rack Marketing
The NGL refined products group is one of the largest nationwide marketers of unbranded gasoline and diesel fuels in the country. Our extensive experience, knowledge, and industry relationships allow us to supply products to our customers dependably and at competitive prices wherever their business' need.
---
Our Services – As a full service marketer of refined products, we offer our customers complete solutions to their business needs including:
Dependable supply at over 150+ terminals in 30 states
Discretionary daily posted pricing exclusive to our customers at each terminal via supply from NGL's inventory or major refiners and suppliers
Contract pricing – Whether it is fixed or index-based pricing, for a day, week, month, or year we can tailor a solution to fit your business need
Exchange and Throughput Agreements – With an extensive network of integrated terminal systems we provide our customers the ability to originate, transport, store, blend, distribute and market refined products
Marketing Services
Risk Management

Risk Assessment – Let our experienced refined products traders tailor solutions to your specific needs
Fixed Price (Retail, Bulk, etc.)
Swaps (Retail, Basis, etc.)
Bulk purchasing and sales – To meet our inventory needs and customer demand our traders work with many of the major refiners and blenders to purchase and sell refined products on both term contracts and in the spot market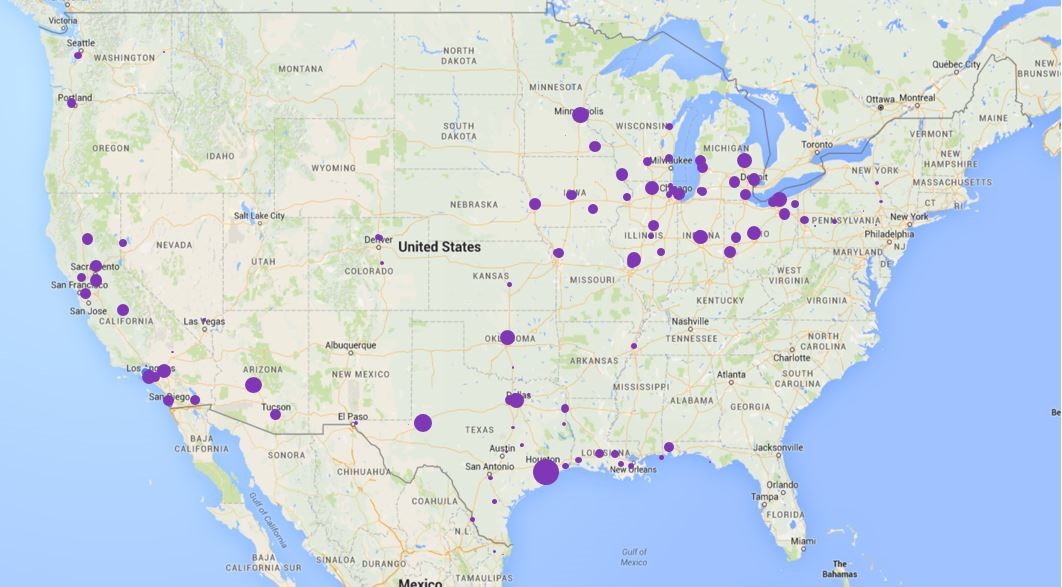 ---
Our Products – As a full service provider of petroleum products, we offer the following products to our customers:
Unbranded Gasolines
Conventional Gasoline
Reformulated Gasoline
E-10 and E-85 and Higher Ethanol Blends
Diesel Fuels
Ultra-Low Sulfur Diesel (on-road and dyed off-road)
Dock Diesel
Biodiesel
Kerosene
Heating Oil
The NGL brand focuses on providing customers the most competitive daily product price possible from over 150+ terminals in 30 states. We supply product from both our own NGL supply and major refiners and suppliers. Our specialty is collaborating with customers every day to ensure they have the products they need when they need it. Some of the many advantages our customers gain by working with us:
Increased Supply Options
Multiple Terminals in Many Markets
Reliable Supply
Extremely Competitive Daily Pricing
Often Same Day Invoicing
DTN Exchange in Many Markets
Term Contracts
Day Deals
Fixed Price Contracts
Midnight to Midnight Pricing


---
The NGL Advantage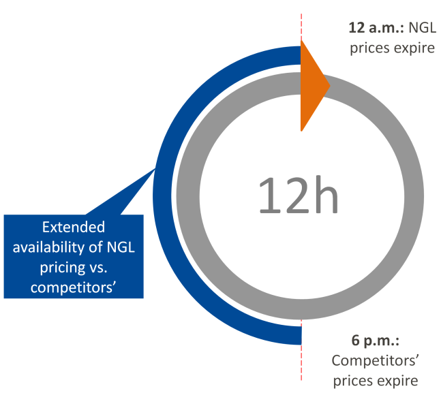 To begin the process of becoming a customer, contact the marketer in your area:
---
---
---
To get started by completing our customer setup package (click here) and we will contact you to finalize your application and find solutions to help your business succeed.
If you are already a customer and would like to request additional loading numbers, carrier clearances, or perform other activities on your account (click here) to access our customer portal.
If you would like to review invoices, draft notices, and other transaction related information (click here) to access our new customer portal for this information.
If you would like to work with one of our traders, have a new business opportunity to discuss, or are an existing customer and have operational, billing, or tax questions (click here) for a complete list of contacts.